Eging Season Starts in Japan.
Hi, guys!! I'm Shoji Matsumoto.
How is going everyone? I'm Great!!
In May and June, Japan enters the spawning season for squid.
Eging lovers do jerk again and again, from the sun rise to midnight…
Of course I went eging too.
I use "SIGLON PE ADV 8lb(#0.6)" this time, my favorite one.
I really like the long-lasting pleasant cast feeling, it is achieved by "DRT(Deep Resin Technology)"
※Deep Resin Technology is・・・
New and special manufacturing technology from Sunline, which input resin coating not only the surface, but also the inner part of braided line.
I believe that it is very important that the flying distance (cast-ability) does not change even after long time use.
The lure (Egi) can fly well even I use the interline rod.
Where we visited this time is the sea of Japan of Yamagichi pref.
This is a popular point where many anglers eging every year, but no one get any on that day.
I just did cast and jerked repeatedly with hope tha chance comes soon…
Then, my friend caught the good squid!
Soon after he caught again.
Both are good size!!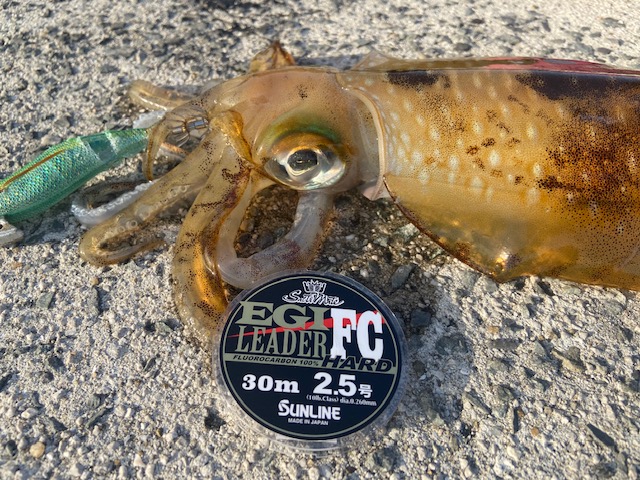 【My friend's line spec】
・PE EGI ULT HS8 10lb(#0.6)
・EGI LEADER FC HARD 10lb(#2.5)
I somehow caught a small one.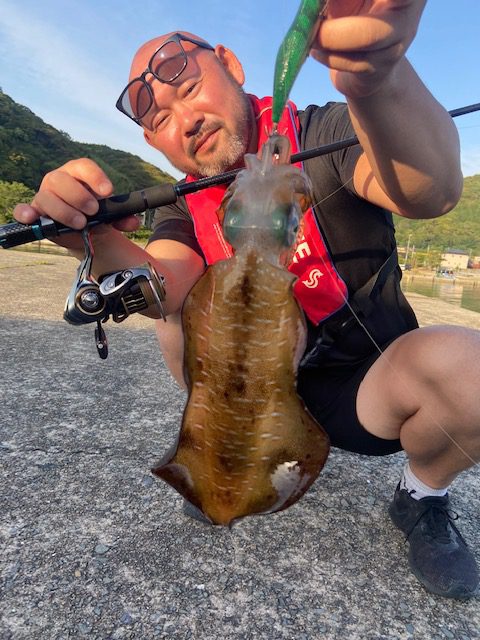 【My line spec】
・SIGLON PE ADV 8lb(#0.6)
・EGI LEADER FC HARD 10lb(#2.5)
I'm sure that the excellent cast-ability of braided line lead to us the squid.
Thanks a lot!! SIGLON PE ADV.
We changed the point on the next day.
SIGLON PE ADV on stage again.
That day was the game day because the next day forecast was heavy windy.
There was not so many anglers.
Is it tough situation?
Even in the situation, we caught some the squid!
My friend caught a series of squid during the sunset hours.
Good job!! It's great squid!!
We use size #0.6 in 2 days, which size is mainly choosed for Eging.
Here is the line condition near the knot part.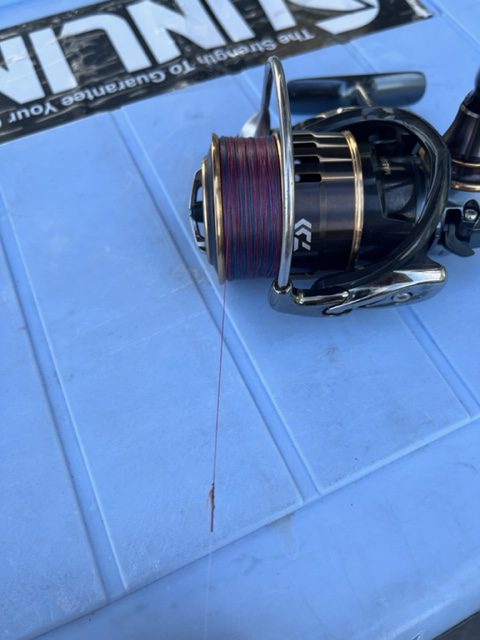 Only once I replace the knot.
Isn't this result very excellent!
This is all thanks to DRT(Deep Resin Technology).
Special resin penetrates to the inside of braided line fibers.
It makes line a little stiffer, but its abrasion resistance, water repellency, and slipperiness are dramatically improved.
And the line doesn't stick to the rod, so it feels great to use for eging!
Let's have fun!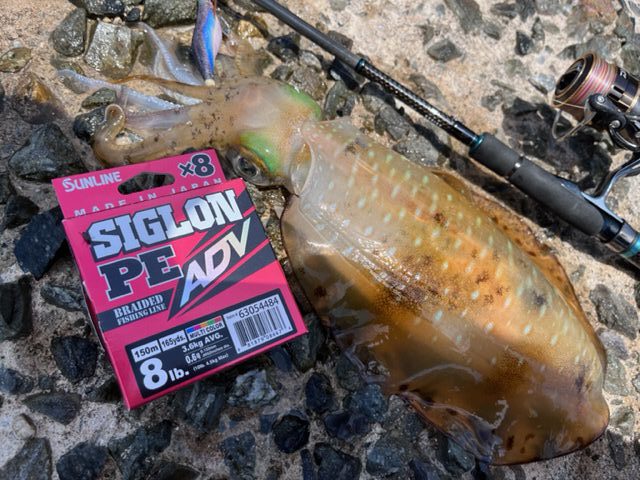 【Tackle Data】
Rod:STOIST AGS IL 83M(DAIWA)
Reel:THEORY 2508PE-H(DAIWA)
Line:SIGLON PE ADV 8lb(#0.6)(SUNLINE)
Leader:EGI LEADER FC HARD 10lb(#2.5)(SUNLINE)
Egi:EGI OH K #3.5(YAMASHITA)